Phototherapy System Principle
LED light power treatment system indicates light emitting diode technology of new generation, follow the light kinetics theory by using it to treat inflammatory acne regenerate aging skin and relieve skin, not the sun burns to skin any harm and discomfort. LED treatment system generated high purity of high power density of red, blue and yellow, to skin for irradiation, which use a continuous or pulse light to change cellular structure, to kill bacteria, for new cells to provide a suitable environment. Was fibroblast absorbed adequately, promote cell production process, enhance collagen production, thickening and restructuring dermal layer structure, forms the ruddy and meticulous elastic skin irritation, analgesic, postoperative wound healing.


System Advantage
1. LED SYSTEM is a phototherapy machine which professional focuses on increase skin tissue synthesis of collagen and elastin fibres, to produce healthier, faster healing, younger looking and glowing skin.
2. LED technology that generates photons at different frequencies to penetrate into deeper layers of tissue. Different wavelengths (colors blue, green, red) of light will have different effects on the skin.
3. LED SYSTEM with Multi functions which is recommended for improving oily skin, removing marks and excess pigmentation, diminishing wrinkles, skin flaccidity, expression lines and orange-peel skin, for firming skin, treating localised adiposity and for whitening teeth.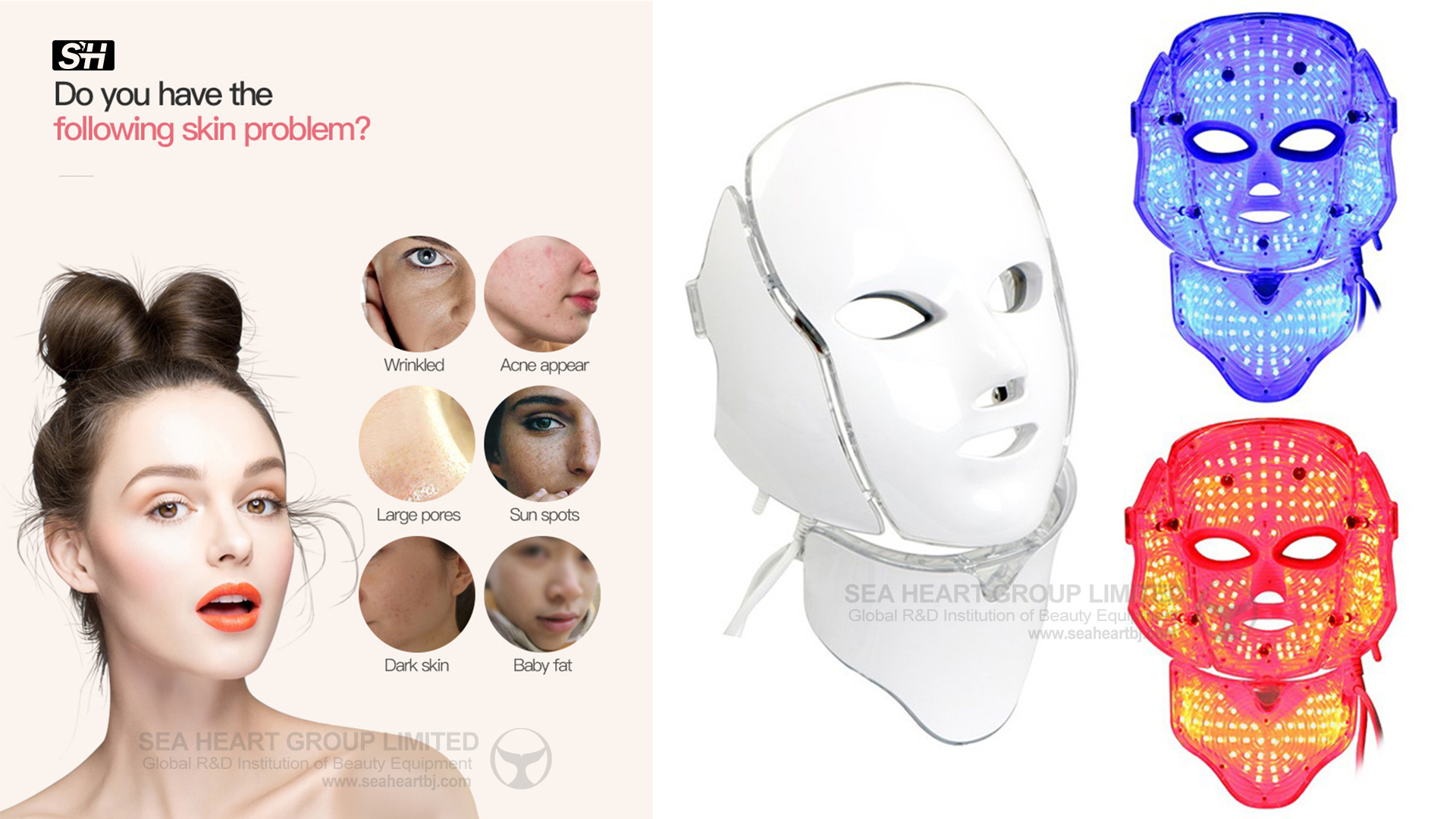 What Can this LED do for you?
Skin LED light therapy has shown to be effective for the treatment of several aspects of the skin aging.The treatment of several aspects of the skin aging,multiple studies have demonstrated improvement of fine wrinkles,mottled hyperpigmentation ,tactile tactile roughness and sallowness,these results are supported by both collagen production and increase proliferation

- Kill bacteria that cause spots and pimples
- Great alternative to oral medications
- Prevent breakouts
- Minimize scarring
LED light treatment principle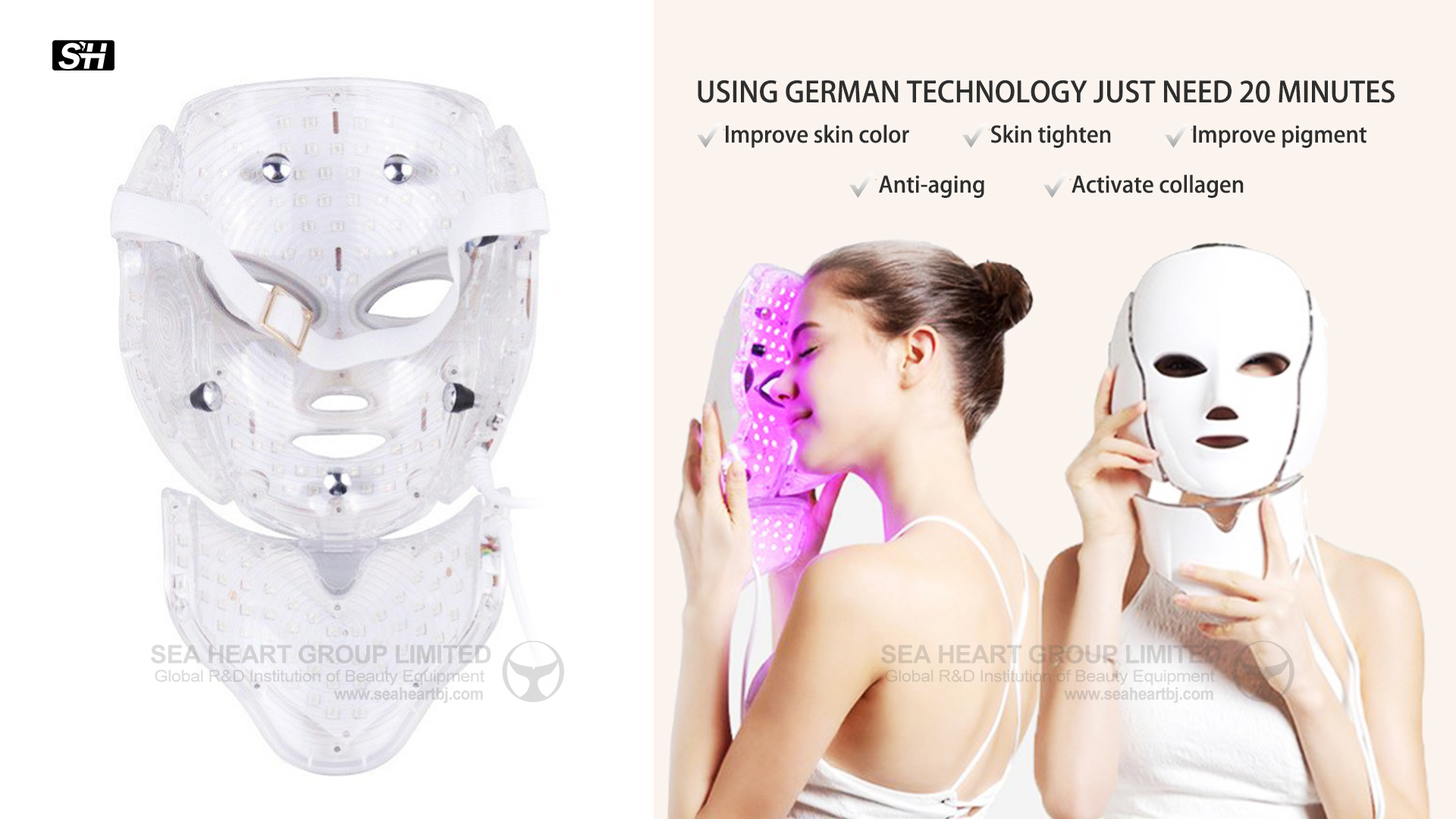 How the lights work?

LED light therapy is the use of specific wavelengths of light which give off energy that are used in many applications,this is known as photon therapy. LED stand for light emitting diode, diodes give off energy in the form of light,powerful,bright,efficient,and are used to kill the bacteria that cause spots

How the skin LED works

LED blue light therapy helps to kill the bacterial that cause spots,reduce inflammation and provide a general rejuvenation effect on the skin.Spots begin when the pores become clogged or blocked and bacteria start to grow,resulting in every teenager's nightmare SPOTS.





The effect of our skin led

a. Kill bacteria that cause spots and pimples
b. Great alternative to oral medications
c. Prevent breakouts
d. Minimize scarring
e. Led face mask is very effective for kinds of skin care treatments.

The skin led is most effective if used daily on the affected areas.Teenagers, please be patient and use your skin led everyday, the skin led system should be used daily up to 30 minutes, once the skin is clear continue to use your skin led daily if possible to kill any bacteria causing spots.Use it while doing homework,watching TV, on the Internet. make your skin led a part of your daily lifestyle.
To enhance your skin led,innovate photonics,recommends seeing a qualified dermatologist or esthetician along with a good topical acne product.Topical acne product should NOT be used before using your skin LED,but can be applied afterwards





How to use this led

Take picture
Before you use your skin led for the first time,it is very important to take a picture of the area you will be addressing.Improvements generally take place in small increments and can be difficult to see light and duplicate the exact lighting again when you take your 'after' pictures

Wash your face
Wash your face with good quality skin care product before using the skin led.Although optional,results will be more dramatic if used with a high quality skin care product,products containing vitamin A,should only be used after using your skin LED as these products may block the LED lights from penetrating into the skin


Question About LED Mask
How long will it take to see results?
Can see pores shrink, the skin become white after use per time. Be in usually it need 4 to 8 weeks to see evident results.
Each person responds at different speeds to the Skin LED System. Some much quicker than others, depending on their current physical conditions, age, skin condition, diet, alcohol consumption, smoking habits, etc. That said, most people see evident results into 6 weeks, but many see results in as short as to 3 weeks.
A Few people will take as long as 9 to 11 weeks, but this is more unusual. The most important things to remember are: this technology works, so it's just matter of "How long will it take?" and it is very important to take a picture before you start using your Skin LED so that you can see the different clearly in the weeks to come.
Is there any scientific proof of LED Light Therapy?
LED Light Therapy has been thoroughly tested, evaluated and validated by hundreds of Universities, Medical Labs and most importantly NASA. There have actually been over 2000 reports and documents written on this technology.
Is Photo Rejuvenation or LED Light Therapy safe?
Yes it is safe and completely non-invasive. It has been used for years in tlumerou5 medical procedures, medical spas, the offices of estheticians and Dermatologists and consumers around the world
Does Photo Rejuvenation or LED Light Therapy cause any pain?
No it does not caused ANY pain at all. Quite the opposite actually, as ii has a very soothing and calming effect.
Can t use skin care products in conjunction with my Skin LED?
Yes, in Fact your results will happen faster and be more dramatic if used with a high quality moisturizing skin care product.
What about using acne products with my Skin LED?
Yes, your results will definitely be faster if you use a high quality topical acne product. An acne product should not be used prior to using your Skin LED, but can be applied afterward